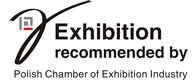 TAROPAK 2018 SOON!
New Pavilions, hundreds of exhibitors, premiers of new products - TAROPAK 2018
Important informations:
ENTRANCE:
Entry for cars will be available from the WEST GATE, which is located
on the Śniadeckich street

.

From there you will get acces to a parking
next to hall number 15.


Entrance for visitors who use public transport or taxi, is NORTH ENTRANCE, located on the Bukowska/Roosevelta street.
OPENING HOURS:
1-3 OCTOBER 2018               9:00 - 17:00
4 OCTOBER 2018                   9:00 - 16:00
LIST OF EXHIBITORS:
EXPOSITION PLAN: