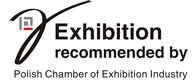 PARK AT MTP AREA!
Important information for visitors of TAROPAK/4 PRINT WEEK/POLIMER TECH.
Are you visiting TAROPAK / 4 PRINT WEEK / POLIMER TECH by car? Are you wondering where you could park your car?
We offer car entry cards for our visitors which qualify them to park on our area, near the exhibition.
1-4 October on our area are held too POLAGRA TECH, POLAGRA GASTRO, INVEST HOTEL Fairs. Tickets with car entry are still available to buy on-line on our website!
ATTENTION! The number of parking spaces is limited!