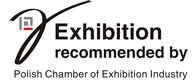 MTP Coffee Points
During fair we welcome all customers to the newly opened Coffee Points located in pavilions No. 3, 3A, 6A, in the passage known as a "4pack" (complex of pavilions 7A, 7, 8, 8A) and two points in pavilion No. 5.
MTP CAFÉ serves delicious Italian style coffee. It is a place where you can relax after series of business meetings and enjoy fabulous Latte or Espresso. Additionally we are offering fresh sandwiches, ciabattas, sweets and soft drinks.
Enjoy rich taste and flavour of Mauro brand coffee prepared by our qualified baristas using prestigious Rancilio Espresso machines. Rancilio is a company with a long tradition and its production of high quality espresso coffee machines goes back to the twenties.
Welcome!