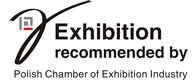 Hundreds of companies will participate
In several weeks, exhibitors from all over the world will come to Poznań.
TAROPAK and INVEST-HOTEL, POLAGRA-TECH, POLAGRA-GASTRO and POLAGRA-FOOD fair, which will be held in Poznań in October, are one of the largest collective fair events organised by the Poznań International Fair. For several days, companies from all over the world will present the latest solutions, many of which will have their debut in the capital city of Wielkopolska. These products and services are the main reason that attracts visitors to the event. As for today, it is known that it will be an opportunity to meet 835 companies. The number keeps growing.
(Jac)
See also:
List of all companies at TAROPAK, INVEST-HOTEL, POLAGRA-TECH, POLAGRA-GASTRO and POLAGRA-FOOD (PDF)