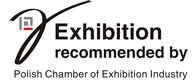 Gold Medal competition
The winners of Gold Medal competition on International Trade Fair for Packing and Labeling Technology TAROPAK 2018
READ MORE ABOUT GOLD MEDAL

___________________________________________________________________________________

DC WRAPPER + DISCOVERY - wrapping machine - photo-recording system for pallets during wrapping process
Company:
DCLOG Sp. z o.o.
IZIPAK Sp. z o.o. Sp.k. Warsaw
Pavilion 6 , stand 26
Investment in the DC WRAPPER system pays for itself immediately after installing the system, the number of complaints recognized decreases, and the process is repeatedly reduced as with indexation you can quickly get to the photos of a disputed pallet. Data archiving is much more efficient than using conventional CCTV cameras. The quality and clarity of images is much better compared to recordings from the CCTV. The equipment used to build the system is provided by leading manufacturers.
PRATIKA 55 SMART: automatic shrink wrap machine with incorporated tunnel
Company:
Minipack-Torre S. p/A.
IZIPAK Sp. z o.o. Sp.k. Warsaw
Pavilion 6 , stand 26
PRATIKA 55 SMART wrapping machine by Italian company Minipack-Torre is a synthesis of modernity and savings. The machine has a number of innovative and patented technological solutions, and at the same time is economical. Compared to competitive machines it occupies 40% less space and saves labour costs as it requires 50% fewer operating staff, and with its design and the incorporated tunnel it consumes less electricity. Another advantage is the high efficiency of packaging.
STB - hand tool for plastic strapping
Company:
Orgapack
TRANSACO GROUP Sp. z o.o., Dzierżoniów
Pavilion 6 , stand 49
A hand battery strapping tool used to secure goods on pallets using plastic straps. The highest possible degree of safety of transport has become extremely important in the industry. This requires maximum control over the strap welding process in order to obtain a secure and effective connection. We have focused on developing the world's first device that would allow the highest possible level of quality control over the process of strapping. Other requirements, which we wanted to meet, include ergonomic design, easy, fast and intuitive operation, and maximum durability under extreme operating and ambient conditions. The biggest challenge was to develop electronics and user interface, which can meet the requirements of manual devices in the industry.
Radpak VFF & RM-32ACD Doy Bagger with rotated horizontal jew
Company:
Radpak Fabryka Maszyn Pakujących Sp. z o.o, Włocławek
Pavilion 6 , stand 69
RM- 32ACD vertical Doy bagger with rotated jaws is a new member of the family of vertical packaging machines from Radkpak. High flexibility and versatility of our solutions will be definitely interesting for manufacturers seeking comprehensive solutions. The efficient and stable operation of the machine is guaranteed by the highest quality componentes from companies such as Allen Bradley, SEW SICK.
Logomatic 510 QTB
Company:
Logopak Systeme GmbH&Co.
KG LOGOPAK EAST Sp. z o.o., Germany
Pavilion 5A , stand 32
QTB 510 is the most advanced automatic labelling system which prints labels on paper without a backing material. Hot melt adhesive is triggered by the print head at the head at the time of printing. This technology has significatly reduced the amount of waste. The material for printing is continuous, which makes it easy to quickly change to field of printing and label length. Rolls of paper up to 2400lm. The machine can label pallets, boxes or small bulk containers.


CANISTER K-10 SOR
Company:
SUWARY S.A., Pabianice
Pavilion 8A , stand 1
The Canister with Anti-Glue system is an innovative product on the Polish market. It allows faster, easier, concentrated discharge of liquids without losses during pouring. It has a large label box protected from damage. The product can be personalized and has the necesssary certificatesand TW mark.
EXCHANGEABLE ENGRAVING SYSTEM
Company:
Klar Glass Sp. z o.o., Pobiedziska
Pavilion 7A , stand 21

The EXCHANGEABLE ENGRAVING SYSTEM is a system of production of glass packaging which allows for the flexible production of packaging with many different engravings within a single production batch. Specially designed removable inserts enable the production of customised packages with different engraved patterns without the need to buy whole moulds for a single package. This helps to reduce implementation costs and shorten the production batch.