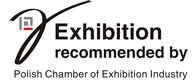 Applications for the 31st edition of TAROPAK are open!
This will be a record edition of the International Fair for Packaging and Labeling Technology TAROPAK.
More than 24.5 thousand meters of exhibition space in 5 pavilions will gather 500 exhibitors, who will present over 450 new products. 63,000 visitors are expected. TAROPAK is the largest comprehensive fair covering all branches of the industry. From glass, paper and plastic packaging to labeling and storage. The event will take place from 1 to 4 October 2018 within POLAGRA block. Exhibitors can now reserve space. Previous edition of the event was visited by customers from all over the world. In the exhibition pavilions there were not only representative of Europe, but also of more distant countries such as Albania, Brazil, Canada, South Korea, Thailand, South Africa, USA and United Arab Emirates. Companies such as Delia, Rossmann, Schenker, Kreisel, Kaufland, Marathon International, Kuehne + Nagle, Panasonic, Floslek, Arvato Services Polska, Azoty Group, Ikea, DHL Express, Orlen Oil, Dell, Thule, Wavin Poland, Nutropharma, Ciech. At TAROPAK, they sought for business contacts and networking.
It should not be different in the upcoming edition, as Konrad Fleśman, Project Director, highlights: - We are growing with the industry by expanding TAROPAK offer. We are introducing new pavilions for the packaging industry. It's time to book a right space for your company at this event" he concludes. During the TAROPAK Fair there are unique conferences and seminars accompanied by inspirational showrooms, which are a source of energy for the visitors and exhibitors to develop their business.
Although 5 pavilions of the Poznań International Fair space seemed to be enormous, applications for the TAROPAK 31th edition are already in full swing. Therefore, you should contact the project team and make a reservation.
Register HERE


CONTACT FOR EXHIBITORS: