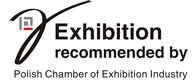 25.06.2019
Are you looking to save time by meeting face-to-face with quality suppliers from the packaging industry? Hosted Buyer Programme makes it easy for the top buyer to attend International Fair For Packaging and Labeling Technology – TAROPAK, which is held in Poznan (Poland) from 30th of September to 3rd of October 2019.
06.05.2019
Check who will be with us this year!
10.01.2019
The most important industry meeting will take place on September 30 - October 3, 2019 in the space of modern pavilions of the International Poznań Fair.
27.11.2018
International Fair for Packaging and Labeling Technology Taropak 2019 will be held 30 September - 3 October 2019! Don't miss it!
15.10.2018
The next edition of TAROPAK will take place from 30 September to 3 October 2019
15.10.2018
and see You next Year!
24.09.2018
Important information for visitors of TAROPAK/4 PRINT WEEK/POLIMER TECH.
21.09.2018
New Pavilions, hundreds of exhibitors, premiers of new products - TAROPAK 2018