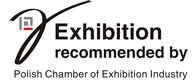 06.05.2019
Check who will be with us this year!
10.01.2019
The most important industry meeting will take place on September 30 - October 3, 2019 in the space of modern pavilions of the International Poznań Fair.
27.11.2018
International Fair for Packaging and Labeling Technology Taropak 2019 will be held 30 September - 3 October 2019! Don't miss it!
15.10.2018
The next edition of TAROPAK will take place from 30 September to 3 October 2019
15.10.2018
and see You next Year!
24.09.2018
Important information for visitors of TAROPAK/4 PRINT WEEK/POLIMER TECH.
21.09.2018
New Pavilions, hundreds of exhibitors, premiers of new products - TAROPAK 2018
19.09.2018
The winners of Gold Medal competition on International Trade Fair for Packing and Labeling Technology TAROPAK 2018