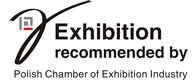 10.01.2019
The most important industry meeting will take place on September 30 - October 3, 2019 in the space of modern pavilions of the International Poznań Fair.
27.11.2018
International Fair for Packaging and Labeling Technology Taropak 2019 will be held 30 September - 3 October 2019! Don't miss it!
15.10.2018
The next edition of TAROPAK will take place from 30 September to 3 October 2019
15.10.2018
and see You next Year!
24.09.2018
Important information for visitors of TAROPAK/4 PRINT WEEK/POLIMER TECH.
21.09.2018
New Pavilions, hundreds of exhibitors, premiers of new products - TAROPAK 2018
19.09.2018
The winners of Gold Medal competition on International Trade Fair for Packing and Labeling Technology TAROPAK 2018
05.09.2018
Visit us and meet interesting companies from packing industry. Establish new business contacts and grow your business. Contact with visitors attendance and get a free VIP ticket!