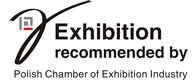 11.07.2019
Modern production and packaging lines, inspiring equipment for the printing industry, gastronomy, food products from around the world.
25.06.2019
Are you looking to save time by meeting face-to-face with quality suppliers from the packaging industry?
06.05.2019
Check who will be with us this year!
More news
---

Next edition: 30.09-3.10.2019!
See how it was during this, 31st edition!