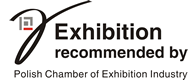 16.12.2016
We kindly invite you to visit Poznań International Fair! Here you will find business contacts, novelties and the chance to develop your passions. In the latest issue of Poznan Fair Magazine "Exhibition calendar 2017" we present trade fair events, organized by the International Fair for almost all industries.
29.09.2016
Four very intense exhibition days are behind us.
28.09.2016
More than 500 exhibitors from Poland and 24 other countries, 13,000 sq.m. and thousands of visitors.
26.09.2016
Take a look at what was going on today during TAROPAK 2016 fair!
26.09.2016
Today, at 11:00 am 30. edition of the TAROPAK and accompanying LOGIPAK, EPLA, POLAGRA FOOD, POLAGRA TECH, POLAGRA GASTRO were officially opened.
26.09.2016
Best designed stands awarded in the Acanthus Aureus competition
22.09.2016
Look at the photo gallery:
22.09.2016
Vademecum contains all useful information: exhibitor's list, exhibition plan, new products list etc.