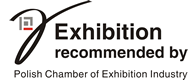 28.09.2016
More than 500 exhibitors from Poland and 24 other countries, 13,000 sq.m. and thousands of visitors.
26.09.2016
Take a look at what was going on today during TAROPAK 2016 fair!
26.09.2016
Today, at 11:00 am 30. edition of the TAROPAK and accompanying LOGIPAK, EPLA, POLAGRA FOOD, POLAGRA TECH, POLAGRA GASTRO were officially opened.
26.09.2016
Best designed stands awarded in the Acanthus Aureus competition
22.09.2016
Look at the photo gallery:
22.09.2016
Vademecum contains all useful information: exhibitor's list, exhibition plan, new products list etc.
12.09.2016
The visit to TAROPAK fair is not only the possibility of get acquainted with hundreds of leading manufacturers and suppliers, but also the opportunity to participate in an interesting program of events.
08.09.2016
Innovative packaging – workshop and exhibition