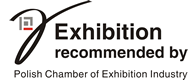 You are invited to business talks during fair by, i.e.:

12.07.2016
TAROPAK - the key event addressed to the buyers of the latest products and services in the field of packaging and logistics in Central and Eastern Europe - are becoming more and more popular among exhibitors.
29.06.2016
Meetings dedicated to the role and importance of packaging both in everyday consumer's life and the economy.
27.06.2016
We encourage you to participate in the workshops "Innovative packaging" which will be held on 27–28 September, during the forthcoming edition of Taropak.
More news
---

Next edition: 26-29 September 2016!