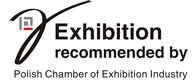 27.06.2018
We present You the latest issue of Poznań Fair Magazine. We invite You to read both its paper and online version. In this issue we present the distinguished guests who visited Poznań International Fair in the recent months, provide reports on the spectacular fair and events, and present Arena Hall, which joined the group of objects managed by the Poznań International Fair. And moreover…
23.05.2018
In the beginning of autumn, from 1st to 4th October 2018, the halls of the Poznań International Fair will house a broad sector-focusing event addressed to professionals from the printing and packaging industries, as well as experts from the food industry. At the same time, exhibitors will present themselves at seven trade shows: Taropak, Polimer Tech, 4 Print Week, Polagra Tech, Polagra Gastro, Invest Hotel and Tastes of Regions.
20.04.2018
Although TAROPAK is the largest comprehensive fair covering all branches of the industry. From glass, paper and plastic packaging to labeling and storage - 4 PRINT WEEK & POLIMER TECH FAIR togeather will combine unique opportunities.
More news
---

Next edition: AUTUMN 2018!