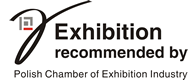 07.02.2018
Since we're growing economy and developing rapidly, we provide you some insight into Polish economy and doing buisness in Poland. If you would like to know more, just click and find out.
04.01.2018
Exhibitors can now reserve space for 2018 Taropak Fair!
30.10.2017
We are presenting you with the latest interactive issue of Poznań Fair Magazine "Calendar of trade fair in 2018". It is absolutely unique publication onto polish market! We invite you to click!
More news
---

Next edition: AUTUMN 2018!