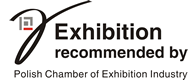 30.12.2016
On the occasion of the forthcoming New Year we would like to thank all our Exhibitors and Visitors, Partners and Friends for their cooperation and to wish them good health,happiness and every success.
22.12.2016
We wish you a peaceful and warm Christmas. Let this Christmas be for you an opportunity to relax, rest and spend time with your loved ones.
16.12.2016
We kindly invite you to visit Poznań International Fair! Here you will find business contacts, novelties and the chance to develop your passions. In the latest issue of Poznan Fair Magazine "Exhibition calendar 2017" we present trade fair events, organized by the International Fair for almost all industries.
More news
---

Next edition: AUTUMN 2018!