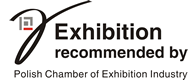 23.05.2018
In the beginning of autumn, from 1st to 4th October 2018, the halls of the Poznań International Fair will house a broad sector-focusing event addressed to professionals from the printing and packaging industries, as well as experts from the food industry. At the same time, exhibitors will present themselves at seven trade shows: Taropak, Polimer Tech, 4 Print Week, Polagra Tech, Polagra Gastro, Invest Hotel and Tastes of Regions.
07.02.2018
Since we're growing economy and developing rapidly, we provide you some insight into Polish economy and doing buisness in Poland. If you would like to know more, just click and find out.
04.01.2018
Exhibitors can now reserve space for 2018 Taropak Fair!
More news
---

Next edition: AUTUMN 2018!